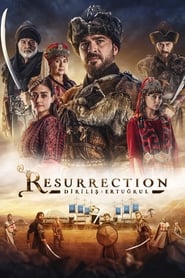 Resurrection Ertugrul Episode 72 English
Resurrection Dirilis Ertugrul Episode 72 English Subtitles on KayiFamilyTV, Watch for free, Resurrection Dirilis ErtugrulSeason 3 Episode 72 Youtube
Continuing his insidious plans between emotion and reason
, Ural finally used Karakoncolos to have Ertuğrul Bey's gold mine raided. The raid took place, but Ertuğrul caught up at the last moment and saved Khachaturyan. Now all the evidence points to the Ural. Well, what will be the attitude of Ertuğrul Bey?
Endless sneaky games
Hanlı Pazar was conquered by Ertuğrul Bey, and the trade of the market began to be carried out with a Muslim understanding. But the scavengers around are not satisfied with this situation. What will these people do to destroy this structure established by Ertuğrul Bey with insidious plans? How will Ertuğrul, who has eliminated the moves of the bandits in the region, take action against the unexpected news from the Karacahisar castle? What kind of strategy will Ertuğrul Bey, who was assigned by Sultan Alaattin to establish peace in the region, implement in difficult situations?
The transformation
of love Aslıhan's love, whose honor was broken by Ertuğrul's rejection of his marriage proposal, will turn into a grudge. How will Çolpan, who realizes this state of her, take advantage of this opportunity? How will things continue in the kilim shop where two oba women work?
Resurrection Dirilis Ertugrul Episode 72 English Subtitles Free Watch Free on KayiFamilyTV, Resurrection Dirilis Ertugrul Episode 72 English Subtitles Free.
Episode Title: Resurrection Ertugrul Episode 72
Air Date: 2017-01-11
Year: 2017