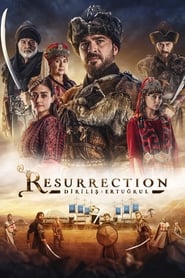 Resurrection Ertugrul Episode 76 English
Resurrection Dirilis Ertugrul Episode 76 English Subtitles on KayiFamilyTV, Watch for free, Resurrection Dirilis ErtugrulSeason 3 Episode 76 Youtube
Lazkaris, who killed Tekfur on the orders of Vasilius, took refuge in the Rye tribe, and Ertuğrul's alps saw him entering the camp. Based on this, Ertuğrul came to the Çavdar tribe on the wedding day of Sadettin Dog and Aslıhan and asked Aliyar for support to establish justice. As a matter of fact, Aliyar was on the side of justice despite his father, Aslıhan and many obstacles, so he became a traitor and unwanted by everyone. As a result of the Ural's trial, the judges were sentenced to death. Sadettin Dog and Vasilius wanted to prevent this situation, but they could not do anything. As a result of this situation, Candar Bey became ill. Now the two lords of the Rye Obas are face to face with death. Will Ural be saved or will he be executed? What will be the situation of Candar Bey? Aliyar, With this decision of the judges, he took the anger of everyone on himself. What will Aliyar do now?
The marriage of Saadettin Dog and Aslıhan remained unfinished. Will Aslıhan be willing to marry again in the midst of all these troubles? What will be Saadettin Dog's move? Who will be the cure for Bamsı, who is more and more attached to Helena?
Resurrection Dirilis Ertugrul Episode 76 English Subtitles Free Watch Free on KayiFamilyTV, Resurrection Dirilis Ertugrul Episode 76 English Subtitles Free.
Episode Title: Resurrection Ertugrul Episode 76
Air Date: 2017-05-17
Year: 2017