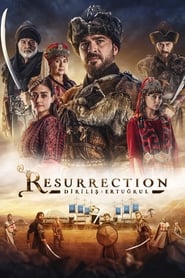 Resurrection Ertugrul Episode 77 English
Resurrection Dirilis Ertugrul Episode 77 English Subtitles on KayiFamilyTV, Watch for free, Resurrection Dirilis ErtugrulSeason 3 Episode 77 Youtube
Sadettin Dog and Vasilius wanted to save Ural, who served their interests by playing various games, but the court decided to execute Ural. But Candar's death changed everything and gave Vasilius the opportunity to make a new move. Vasilius took the first step to save Ural, sacrificing his two men and acquitting him of the murder of Tekfur. But Ural was convicted not only of having Tekfur killed, but also of having Ertuğrul's alps killed. Now it's Emir Saadettin's turn. So, will Emir Saadettin be able to get Ural to be acquitted of the crime of killing the alps?
On the other hand, the excitement of choosing a principality continues in the Rye tribe. No selection has been made yet. The fact that Acar Bey aspired to the principality and Emir Saadettin supported him made Aliyar Bey's job difficult. Ertuğrul's goal is to make Aliyar become Bey. So how will he act to make this happen?
Vasilius opens up his feelings for Helena day by day and makes all kinds of tricks to conquer Helena's heart. On the other hand, Bamsı is becoming increasingly attached to Helena and is burning with the fire of love. What will be the direction of Helena, who is caught between these two?
Resurrection Dirilis Ertugrul Episode 77 English Subtitles Free Watch Free on KayiFamilyTV, Resurrection Dirilis Ertugrul Episode 77 English Subtitles Free.
Episode Title: Resurrection Ertugrul Episode 77
Air Date: 2017-05-31
Year: 2017