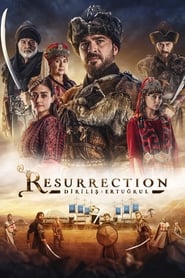 Resurrection Ertugrul Episode 78 English
Resurrection Dirilis Ertugrul Episode 78 English Subtitles on KayiFamilyTV, Watch for free, Resurrection Dirilis ErtugrulSeason 3 Episode 78 Youtube
Game against game
Vasilius and Sadettin Dog, who saved Ural from death with their games, thought they had won, but actually lost in Ertuğrul's big game. Ertuğrul did the hard thing, he released Ural, who killed his son and killed his alps, with a peace diet. Although it was difficult for Ertuğrul, this situation paved the way for him to reach his future plans. Aliyar became a bey, thus the unity of the two tribes was ensured. Now, what will be the move of Vasilius, whose interests have been damaged and who spent two of his men without hesitation to make Ural a lord? What method will Sadettin Dog follow?
On the other hand, Aslıhan was attacked by Batuhan. Batuhan was the most loyal man Ural used in his dirty work? What kind of attitude will Aslıhan, who stands against Aliyar for Ural, follow when she hears the truth from Batuhan? What will be Batuhan's plan over Aslıhan? What will Emir Saadettin do when he hears that the woman he will marry has been kidnapped?
What will be the fate of Helena, who is stuck in the castle against Vasilius's increasing emotional tendencies? Who will save him from this impasse?
Resurrection Dirilis Ertugrul Episode 78 English Subtitles Free Watch Free on KayiFamilyTV, Resurrection Dirilis Ertugrul Episode 78 English Subtitles Free.
Episode Title: Resurrection Ertugrul Episode 78
Air Date: 2017-06-07
Year: 2017