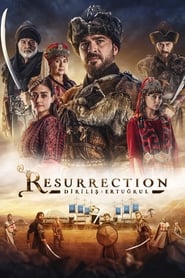 Resurrection Ertugrul Episode 94 English
Resurrection Dirilis Ertugrul Episode 94 English Subtitles on KayiFamilyTV, Watch for free, Resurrection Dirilis ErtugrulSeason 4 Episode 94 Youtube
Ertuğrul, who was a prisoner in the hands of the slave trader Simko, teamed up with Pitho and other slaves and managed to get rid of Simko. Meanwhile, the bandit chief Mihalis, whom Ares commissioned to loot the caravans arriving at the Hanlı Pazar, also witnessed the chase between Simko and Ertuğrul by chance and reported the situation to Ares. After a long chase, Simko and his men cut off Ertuğrul and the slaves, and just as Ertuğrul was going to defeat Simko and his men, the bandit leader Mihalis also raided with his men. What will Ertuğrul do now, who is stuck between two enemies? Will he be able to eliminate them and reach his tribe?
On the other hand, the Kayı tribe was involved, and Dündar's decision to sell Hanlı Pazar and move to Gündoğdu and Sungur Tekin caused an indignation in the group. Artuk Bey, who opposed this decision, said that Dündar was against the tradition and that his principality could not be considered legitimate in this case and became a candidate for the principality. How will the events develop in the Kayı tribe from now on? Will there be a ceremonial feast again? Or will Dundar's decision be followed and Hanlı Pazar will be sold and emigration?
What will be the next plan of Ares, who learns that Ertuğrul is alive? Will Ertuğrul be able to kill before he reaches the camp?
Emir Saadeddin, who encouraged Dündar to sell Hanlı Pazar and emigrate, gave Bahadır Bey a chest of gold to buy Hanlı Pazar. Will Emir Saadeddin be able to achieve this goal? Will Bahadır Bey be able to buy the Hanlı Pazar and seize the Rye principality?
Resurrection Dirilis Ertugrul Episode 94 English Subtitles Free Watch Free on KayiFamilyTV, Resurrection Dirilis Ertugrul Episode 94 English Subtitles Free.
Episode Title: Resurrection Ertugrul Episode 94
Air Date: 2017-11-08
Year: 2017