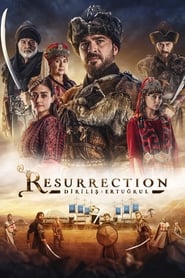 Resurrection Ertugrul Episode 97 English
Resurrection Dirilis Ertugrul Episode 97 English Subtitles on KayiFamilyTV, Watch for free, Resurrection Dirilis ErtugrulSeason 4 Episode 97 Youtube
Returning to Oba, Ertuğrul went to Hanlı Pazar and stopped the sale and overturned Dündar's immigration decision and restored the Kayıs to their old order. With the Sultan's edict, he took the signs of the border principality from the hands of Emir Saadeddin in front of the Oghuz lords. As a first job, he exiled Bahadır Bey's son Sancar, who drew a sword against him when he broke the sale and caused the death of two Rye Alps. What will be the next moves of Ertuğrul, who was given full authority by the Sultan? Will he tell Ares that it was Ares who set him up? Will he be able to conquer Karacahisar Castle?
What will be the next plan of Emir Saadeddin, who was called to Konya by the Sultan? Will his alliance with Tekfur Ares continue? What will be his attitude towards Bahadır Bey? Will he try to prevent Ertuğrul from conquering Karacahisar Castle?
Will Ares be able to learn about the trap from Ertuğrul? Will he extend the hand of friendship to Ertuğrul or will he continue his war preparations and attack? What tasks will the dangerous warrior give the Titan?
Will Aslıhan be able to defeat him in the conflict with his uncle Bahadır Bey? What will Bahadır Bey do after Ertuğrul's arrival and his son's exile? After Dundar's exile and the dismissal of the gentlemen who supported him, what will the new order be like in the Kayı tribe? What awaits the Kayıları, who are again in Ertuğrul's shadow?
Resurrection Dirilis Ertugrul Episode 97 English Subtitles Free Watch Free on KayiFamilyTV, Resurrection Dirilis Ertugrul Episode 97 English Subtitles Free.
Episode Title: Resurrection Ertugrul Episode 97
Air Date: 2017-11-29
Year: 2017