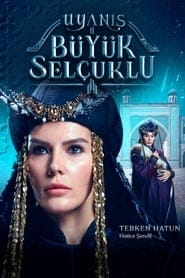 Yanis Buyuk Selcuklu Episode 17 English
Yanis Buyuk Selcuklu Episode 17 English Subtitles on KayiFamilyTV, Watch for free, Yanis Buyuk SelcukluSeason 1 Episode 17 Youtube
Faisal, in fact, to make the Batini case prevail over Shelemzar; apparently, he wanted to establish kinship with İlteber and marry Turna in order to legitimize his commercial activities in Şelemzar and to get rid of the pressure exerted on him by the Seljuks. With the financial strength he had, he had succeeded in convincing Ilteber of this marriage. What will Turna, who is on the verge of marriage with Faisal, do? What will be the reason that will make Ilteber give up on this marriage?
On the other hand, Markus, who took action to take revenge on Sencer, who killed his close friend Eynar, badly injured Basulu for his revenge. Will Başulu be able to escape the death that he has come to the brink due to his severe wound?
Nizamülmülk, who realized that there was a dangerous spy connected to the Batinis in the palace and was most suspicious of Hasan Sabbah, had set a trap using the Book of Secrets, which the Batinis considered sacred. As a result of this trap, he caught Hasan Sabbah and managed to reveal his true identity. How will Hasan Sabbah get out of the trap he fell into?
On the other hand, Sencer will go after Markus to avenge Basulu. What kind of path will Markus follow in order to become stronger, which Seljuks and even Sencer are chasing? For this, how will he form an alliance with Faisal through Sabbah?
Will Sencer find out that Faisal is actually a Batini and his dirty connection with Markus? Will he take his revenge on Markus, who seriously injured Başulu and martyred Korkut Bey?
Yanis Buyuk Selcuklu Episode 17 English Subtitles Watch Free on KayiFamilyTV, Yanis Buyuk Selcuklu Episode 17 English Subtitles.
Episode Title: Yanis Buyuk Selcuklu Episode 17 English Subtitles
Air Date: 2021-01-18
Year: 2021